October is Pastor Appreciation month. Pastors are often undervalued and unappreciated in spite of how much they do for us. Pastor Appreciation Month is the perfect time to show your Pastor how much he means to you. Pastor Appreciation offering envelopes provide a great way to accomplish this.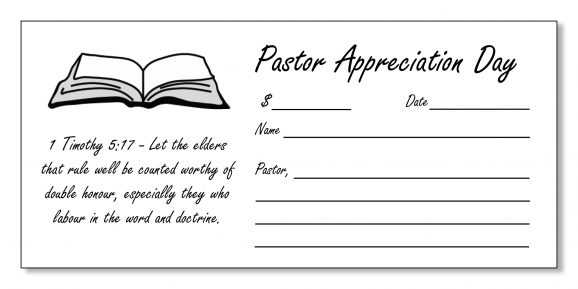 1. The Benefit of Pastor Appreciation Offering Envelopes
Pastor Appreciation offering envelopes provide a way for members to give a gift directly to their Pastor. It ensures that whatever is placed into the envelope will NOT be used to pay the bills, church mortgage, or go into the building fund. This makes it easy for church members to be generous to their Pastor over and above his usual salary.
2. Designing Your Own Pastor Appreciation Offering Envelopes
You can easily design your own Pastor Appreciation offering envelope and submit your design to be printed. We have a few articles that will help you get started with your own design in Microsoft Word and Publisher.
Things you can add to your Pastor Appreciation offering envelope design:
Lines for a special message to the Pastor
A thank you message from the church
Picture of your Pastor
A Bible verse applicable to Pastors
3. Pastor Appreciation Offering Envelope Templates
We made a few templates to make your job a little easier. Download our FREE Pastor appreciation offering envelope templates here. Open one in Word or Publisher, make any edits you would like to make, then save it. Then you can place an order with your edited template. You could also submit your order without making any changes to the template if you like.
4. Placing An Order Using Your Design
Once you have your Pastor Appreciation offering envelope design set up just the way you want, save your envelope as a pdf, then place your order by clicking here: Offering Envelopes – Customer Art.
First, choose the second option "I am uploading new, print ready, artwork." In the box below, give us any additional instructions you want us to know. Then select your paper and ink color.
Note: 2-color and full color printing is not an available option on our website at this time. If your art has more than one color, please contact us for pricing.
At the bottom of the page, attach your .pdf to your order. Next, select the quantity of envelopes you wish to purchase. When you are happy with your selections, click on your shopping cart at the top of the screen and check out.
5. What Happens Next?
When we receive your order we will email a sample of your offering envelope for approval. We will not print the envelope until you approve the art sample. So, be sure to keep an eye on your inbox.
You can usually expect to receive your envelopes within 8-14 days (5-10 business days) after payment and art approval. With this in mind, place your order at least 2 weeks before you need the envelopes. If you need your envelopes faster, contact us for pricing for an expedited delivery.