Using visuals in communication has been around since the beginning. We see visuals used in the Bible when God communicated with man. Animal skin to cover Adam and Eve, the burning bush, the serpent on the pole, the pillar of fire and a pillar of smoke, to name a few.
Even Jesus used visual aids in his parables. "Behold the fowls of the air…" (Matthew 6:26).
Visuals have been heavily used throughout human history and remain an important part of communicating.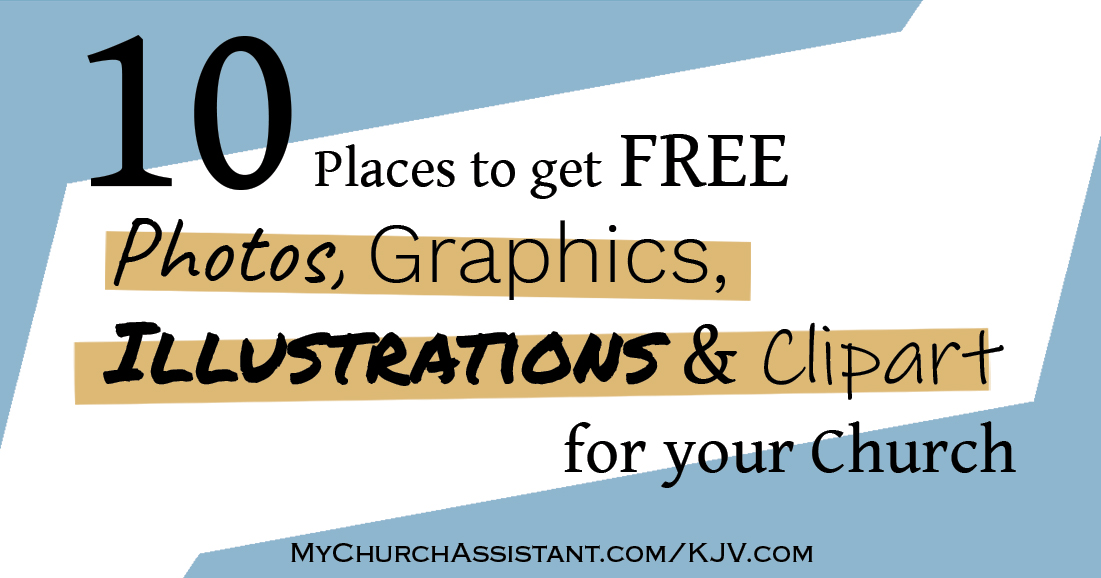 Not only does "a picture [say] a thousand words," but it also says them 1000x faster. According to an article from MIT, "… the human brain can process entire images that the eye sees for as little as 13 milliseconds…"
Due to the fast-paced environment of our modern world, the need for visuals in communication has grown exponentially.
Today we would like to show you 10 places to get free photos, graphics, and illustration that can help you further the message of your church or ministry.
Free to Use Graphics
The Internet is full of websites offering free photos, illustrations, and vector graphics. Although you don't have to purchase the graphics to use them, many of these websites still require you to credit the website or the creator of the graphic. Other websites allow you to use the media without giving credit.
To spare yourself from any legal issues, verify the licensing terms on each website before downloading and using any of their graphics.
1. PublicDomainVectors.org
PublicDomainVectors.org is a site with 60,000 vectors all with a CC0 1.0 Universal license (CC0 1.0).
That means you are free to use any of the vectors you find on the site for any commercial or personal purpose without crediting the creator or the website.
PublicDomainVectors.com also has an SVG generator, which is a great tool to create an interesting background image. Click randomize to create one at random. Or choose from the many options for colors and shapes, then click generate to create your background.
You can even create a background with words or characters of your choice placed at random.
Another great tool on this website is the SVG editor.
You can upload an SVG, then add, remove, move, rotate, enlarge, or shrink elements. Once finished, save as an SVG or export as a PNG, JPEG, BMP, WEBBP, PDF.
2. Pixabay.com
Pixabay.com is another great website with vector graphics and illustrations. The media website boasts 220,0000+ illustrations and 90,000+ free vector graphics along with its photo and videos available for download. Unlike the CC0 1.0 license that some other websites have, Pixabay has a usage license that restricts the use of its media in a few ways. The license still allows you to use their graphics without giving credit to the website.
3. KJV.com
KJV.com is a where we post own material that we create with churches and ministries in mind. You are free to download and use any clipart, template, or other material that we create. We use the Attribution-NonCommercial 4.0 International license(CC BY-NC 4.0) for our material. We only ask that you credit us so more people can find and use our material to benefit their ministry.
4. Vecteezy.com
Vecteezy.com requires a paid membership for most of the graphics available on their site, but they also have a great selection of free vectors. Vecteezy.com allows you personal and commercial use of their free media but requires you to give them attribution to use it.
5. OldBookIllustrations.com
Old Book Illustrations is a website that offers illustrations from old books. The terms of use for Old Book Illustrations state that they do not restrict the use of the illustrations on their website, and it is up to you to make sure that your use of any illustration complies with all copyright laws. For information about copyright laws for old books and the illustrations in them, check out the table here.
6. FriendlyStock.com
FriendlyStock.com is mainly a paid account website but has a small library of vector image sets available for download. They offer downloads in various file formats and do not require you to give them attribution, although they prefer that you do.
7. Flickr.com
Flickr.com Creative Commons is where you can browse through photos that Flickr users offer under Creative Commons Licenses. Photos are categorized under 8 different Creative Commons licenses, and you can search through the images by license. Be sure you understand the license chosen for a photo before you use it. Some Flickr users want attribution for their work while others do not.
8. Unsplash.com
Unsplash.com is a site with hundreds of thousands of beautiful photos, including these awe-inspiring photos of God's creation from NASA. All photos on the website are free to use commercially or non-commercially, and the license does not require attribution to the website or the photographer.
9. StockSnaps.io
StockSnaps.io photos are licensed under CC0 1.0 Universal (CC0 1.0)Public Domain Dedication. They are free to download, and they require no attribution for any of their photos.
10. Take or Make Them Yourself
One more way to get photos or graphics is to take or create them yourself. Doing it yourself is a great solution if you can't find what you need or you want something unique.
If you don't have the ability to do it yourself, ask a friend or family member who can. Maybe someone in your church is a graphic designer or photographer and would love to lend a hand.
Don't Choose Something that is Overused
With all the free photos, graphics, illustrations, and clipart out there, the chances are high that others have used what you select. If your intended audience has already seen the graphic elsewhere, this may affect the message you are trying to send.
Do a Google image search with the graphic before using it. You may see that the photo or illustration is already heavily used in various ways. If it turns out the image is overused or is being used in a way that could harm your message, it is better to look for another image. However, if the other uses of the graphic won't cause you any problems, use it.
Abide by the Use License
Again, be sure you understand and abide by the license before you use any photo, illustration, clipart or graphic. The owner of the media can do a reverse image search and find anyone who is using their property, which could get you into trouble if you didn't stick to the licensing terms.