Mother's Day is almost here! Have you made all the plans for your Mother's Day service? If not, no worries, we are here to help! We want to share a few helpful tips & ideas we have collected for a great Mother's Day service.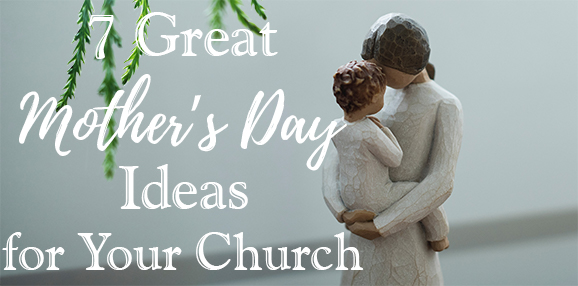 1. Get the Word Out Now
The potential to have a crowded auditorium is high on Mother's Day, but in order to maximize that potential, you have to act quickly. Start the hype about your Mother's Day service sooner, rather than later. Get out there with those door hangers! Send out those postcard invites! Post to your social media page, and have your members share it! Talk about Mother's Day on your website! It's just around the corner, but there is still a little time. Get busy, don't wait!
If you are still in need of door hangers, we have a couple Mother's Day layouts available for purchase. Keep in mind, orders need to be placed rather quickly in order for you to receive them in time to get them out before Mother's Day.

Layout 1
Layout 2

You may also like: Mother's Day: 6 Steps to a Great Mother's Day Service
2. Have Special Bulletin Covers, Offering Envelopes & Visitor Cards
It is always nice to change up the bulletins and offering envelopes for holidays and special events, people come to expect it, even. So having a special design for Mother's Day is a great idea. You also want to make sure you have enough offering envelopes and visitor cards before the big day, so take an inventory at least 2 weeks in advance, and get your order in if needed.
If you would like to go with something new, here are some free Mother's Day bulletin cover, offering envelope, visitor card, and gift tag templates. BONUS, they all match!

FREE Mother's Day Templates

You can download and edit them as you like, or print them as they are. Another option is to download and print directly from the PDF file.
3. Buy Mother's Day Gifts
Most churches give a small gift to all moms. Some even give an extra gift for the newest mom or the mom with the most children present at church that day. The gift you give will depend a lot on your budget. Take some time to decide how many mothers you will need to buy for, then divide your budget by that number, and you have the cost per gift. Once you have your price range, shop around for the perfect gift that also fits your budget.
Here are some gift ideas:
A Rose, or one rose for every child they have
Chocolates
Pad and pen
Mousepad
Coffee Mug
Calendar
Magnet, or magnetic photo frame
Tote bag
Bible cover
4. Show a Video
Another great way to make your Mother's Day service special for moms is to show a video tribute. Whether you make your own, or download one from the internet, a video is sure to be memorable. Here are a few we found. They will bring tears, or give a chuckle:
5. Special Music or Skit
Ask the children's church leaders if they can have the children sing a special song during the service. You can either buy a soundtrack, or have them write their own song. Not only would their own song be more personal, but it is sure to bring a laugh or two. Another option is to have the children, or the youth group perform a fun little skit about mothers.
6. Open Up the Mic
Before the sermon, ask if anyone would like to brag on their mom. The stories people will tell can range from tear-jerking stories of their mother's sacrifice, to hilarious stories of ways they thoroughly embarrassed their mother as a child. In then end, the whole congregation will thinking of their own mother, and thankful for all she has done.
7. Sermon Outline Ideas
With Mother's Day potentially being one of your biggest congregations of the year, many of whom may not have a relationship with Christ, your Mother's Day sermon will be particularly important. Take plenty of time and prayer while preparing your sermon. Pray that God would soften the hearts of those in attendance, and that they would have open ears.
If you could use a little inspiration, here are a few sermon outlines we found that present the gospel in relation to mothers.