Summer is here! With the warmer weather and more daylight hours at your disposal, summer is a great time to vamp up your church outreach efforts. We would like to share with you 7 great ideas to help you be more effective in your church outreach ministry.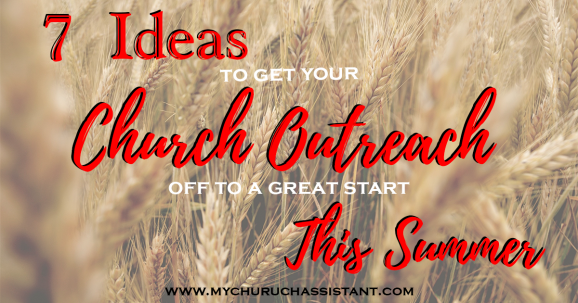 1. Use Door Hangers
Door hangers are an easy way to leave your church information and the gospel at every house you visit. One of the major benefits of using door hangers in your church outreach is that it encourages more church members to get involved in your outreach efforts. Many people have a hard time interacting with people they don't know. With door hangers, that aspect of outreach is removed for the most part. Your outreach team member will have the choice to either knock on the door and speak with the resident, or just leave a door hanger on the knob and walk away. Whether or not there was a face-to-face interaction, another house and family was reached with the gospel. This non-confrontational aspect of the door hanger makes it a very useful and convenient outreach tool.
Purchasing Custom Door Hangers
Our door hangers are beautifully designed, eye catching, functional, and durable. We offer a variety designs in regular and jumbo sizes.
Customize your door hanger with your:
Choice of color scheme
Church contact information
Logo or other artwork
Message on the back
Once we receive your order, we will work with you to make the changes you request on your order, and will email you with a sample for your approval before we send them to print.
We recommend placing your door hanger order at least 4-5 weeks before you need them. This will take into account the time it takes to get the art set up and approved, and then production and shipping, with plenty of time left to get them out onto the doors in your community.
2. Use Tracts
Tracts are a very important part of your church outreach because they present the gospel in an intriguing way that makes the receiver consider what they are reading. These days there are so many design options and gospel presentations for tracts. You can find a special tract for pretty much any occasion or holiday.
Tracts are compact, and can be carried with you everywhere you go. Encourage your church members to take a stack with them to pass out during the week. Remind them how easy it is to pass on the gospel using a tract. Tracts can be passed out pretty much anywhere.
Going out to eat? Leave a tract for the waitress.
Grocery shopping? Give the cashier a tract.
Getting your hair cut? Hand one to your barber.
Let your church members know how important it is for them to get the gospel out, and how big a part they are in your church outreach ministry. Getting the gospel out is our job as Christians.
Purchasing Custom Tracts
Our 3″ x 4″ trifold tracts are printed on heavy 100# gloss book stock and coated with a scuff-resistant AQ gloss coating, so they are durable, and resistant to scratches and scuffs. We can customize any of our layouts to suit your church. Add your church logo and contact information, service times, customized gospel message, or any other information you would like to add. When you order, we will set up your art as per your instructions, and email you a sample for approval.
3. Write and Mail Personal Letters
Have your church members write personal letters to people in the community inviting them to visit your church. You should provide them with a sample letter that they can use as they write. This way they have an idea of what to say. Make sure you give them some creative freedom when writing to let their personality shine through, as this will make the letters more personal and genuine.
You can gather names and addresses from the phone book, the internet, or ask church members for names and addresses of their family and friends.
There are also companies which sell mailing lists with names and addresses of people in your community. This is a great way to get names and addresses with minimal effort.
4. Get Your Youth Involved
Teens jump at any excuse to get together with their friends, so use this to your advantage. Have your youth leader plan special outings to pass out tracts or go door-to-door with door hangers.
Another way to get the teens involved is to add outreach into teen events like scavenger hunts. One of the items on the scavenger hunt list could be to hang 30 door hangers, or pass out 30 tracts.
Make sure the teens are reminded every time they go out that they are the face of the church to the public. They should behave in a way pleasing to God, and that would be a good example to the world.
5. Have an Outreach Family Day
Schedule a day once a month where families in your church can get together and fellowship while doing door-to-door outreach, or gather to write letters. This will not only get the gospel out, but will build relationships within your church.
6. Plan and Promote a Special Event
Plan a special summer event, and invite the community. Prepare far enough in advance so you have time to get the word out, and work the promotion into your other church outreach efforts. Door hangers are a great tool to inform the community of your event.
Here are a few examples of events that can draw a crowd:
Family carnival day
Drive-in movie night in your church parking lot
Chili cook-off
Vacation Bible School
Special event scheduled to coincide with a community holiday/parade
7. Have a Fundraiser
Partner with a local coffee shop or other small business to raise money for something important. It could be a local charity, a family in crisis, foster children in your community, or some other area of need.
This type of outreach will get your community more familiar with your church, and show that you care. You should be present on the days the fund raiser is happening to pass out tracts and get the gospel out. Promote the fundraiser within your church, on your website, on your social media pages, and in the local newspaper.