How To:
1. Prepare Your Message
Before you start any type of VBS promotion, prepare your message. This will make the next steps of your promotion seamless. It assures that the message is both clear and cohesive over all promotion platforms.
If the VBS information provided on your church website differs in any way from what is on your Facebook page, this can lead to confusion.
The time and date, age range, meeting place, and contact information need to be correct anywhere this information is offered. Preparing your message can be especially important if the job of promotion is being done by multiple people; everyone should have the same information to promote.
2. Put It On Your Church Website
Your church website is a logical place to start. Put the dates for your VBS as an upcoming event on your church calendar, this should be done far in advance so anyone who visits your website will be aware of your upcoming VBS.
Then as your VBS nears, make a special page with more detailed information, as well as the easiest way for people to contact you with questions. You can include your website on any promotional avenues you use, and have people visit if they want any further information.
The information you offer on your website should include the time and dates, the meeting location (including where on the property they should meet), age range, and daily activities kids can expect (crafts, snacks, games, lessons, etc.). Many churches also have a form to preregister children for VBS right on their website, which makes it convenient for parents to sign up their kids.
3. Use Facebook
Out of all the social media platforms, Facebook is the most used, and a great place for VBS Promotion. If you do not already have a Facebook page for your church, now would a great time to create one. Once you have your church Facebook Page up and running, create an event for your VBS from your church Facebook Page. In the event description, you should include any important information, a link to your website, and a way for people to contact you.
Make the event public so people can see it when they search for events in the area. You can also pay for Facebook ads so more people will see your event. Encourage your church members to share the event with their Facebook friends.
Make posts about your VBS from your page as time goes on. Keeping the VBS in the news feed assures more people will see it. Post about the VBS at least once a week, then as VBS nears, post more and more frequently. Ideas for posts about your VBS:
Pictures of VBS preparation and decoration
A little about the VBS theme
A countdown to VBS
Reminders about signup
Reminders about where and when to meet
4. Get Door Hangers and Other Printed Materials for Your VBS Promotion
Order some VBS promotion door hangers or postcards. Make sure you order these at least 5-6 weeks in advance so there is time to get the design set up, get them printed, and shipped to you. Or you can print your own on your desktop printer.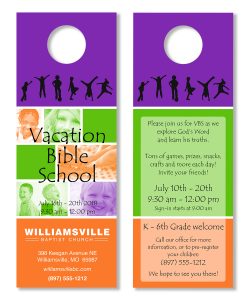 Ways to distribute printed materials:
Go door-to-door in nearby neighborhoods
Pass them out in front of busy stores
Distribute them at a community event or parade
Post them on community bulletin boards
Mail them out to families in your area
Have church members give them to friends and family
5. Encourage Kids Invite Their Friends
Probably one of the best VBS promotion techniques is to have the kids in your church invite their friends and neighborhood kids. Offer some prize incentive for those who bring the most guests. This will always help boost your attendance. The better the prize the more likely children are going to want to invite other kids to come.
Some ideas for great prizes:
Day pass to an amusement park
$50 Visa gift card
New bicycle
Oversize candy bar
Gift card to Dairy Queen
Remind the kids every day of Vacation Bible School about the prize for the child who brings the most visitors. This will continue to encourage them to bring more and more friends every day.
6. Display Signs in Front of Your Church
Lastly, display signs for VBS in front of your church. The more times people see your VBS information, the better. Make some picket signs to put along the roads in the areas surrounding your church, buy a banner to display on the side of the church, put the times and dates on your church reader board.